A Letter from the CEO
2020 was a great year. 2021 will be greater.
How We Weathered the Storm in 2020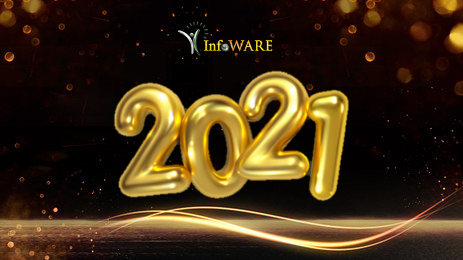 It is without a doubt that 2020 was an unprecedented year for us all. The COVID-19 pandemic presented people and businesses all over the world a whole different reality which resulted in dramatic changes in thinking, business agility and most especially, living.
Despite the overwhelming and difficult times, InfoWARE showed up and stayed true to the Mission and Values we stand for and continued to provide unwavering support to our customers across the 4 countries we operate in (Nigeria, Ghana, Ivory Coast and Kenya) with our highly reliable, configurable and scalable business and analytics solutions.
We experienced unprecedented growth in our market data and analytics services as most of our customers transitioned to a mostly low touch/online trading, payments and customer management systems. We upgraded and scaled up our cloud infrastructure to meet up with demand and working with our customers and partners, deployed several upgrades to their online trading platforms to create a seamless user experience which allows their customers take advantage of the booming stock market.
Despite the pandemic, the desire to partner with InfoWARE has never been stronger. We entered into several JV agreements with local and foreign partners and we are on track to deliver on some key projects in 2021 that would significantly drive value and growth for us, our customers specifically and the market in general through 2021 and beyond. We've also seen an explosion in the use of our Platform APIs by our customers and partners to build amazing and absolutely awesome and innovative products.
There has been an excellent reception of the InfoWARE Finance app available for both Android and iOS devices and we plan to continue to invest and innovate on this brilliant product in line with our focus to help Nigerians build wealth. Our Grow My Kudi platform is another brilliant innovation that tallies with our wealth-building focus as it teaches Nigerians how to build wealth through a fun, online simulation of the stock market.
Now, our 2020 chapter has closed but our future has never looked brighter. From current opportunities, the New Year looks like it will be a fantastic one for us. We are setting very aggressive growth and revenue targets for 2021 with expanding opportunities not just in Nigeria but also and especially within other countries in West and East Africa.
InfoWARE takes the ongoing pandemic very seriously and continues to maintain strict adherence to the COVID-19 safety protocols especially now with the second wave ongoing. Our employee and customers' wellbeing remain a top priority for InfoWARE and during the pandemic we made decisions based on a few simple principles:
Prioritizing the health and well-being of our employees and customers;
Mitigating the financial impact of the pandemic on our employees and our customers
We achieved these in 2020 and we shall continue this year by setting very clear ground rules and strict guidelines for employee support engagements with customers.
On a final note, let me use this opportunity to express my immense gratitude to our employees, customers and partners. Last year's success is a testimony of your efforts, contributions and loyal support. I am incredibly proud of what we have achieved despite all odds. We continue to grow our team and I am looking forward to many more accomplishments and a fantastic year ahead.
On behalf of InfoWARE Limited, I would like to wish everyone a healthy, thriving and prosperous 2021.
Stay safe.
Uwa Agbonile
CEO & Chief Software Architect, InfoWARE Limited