InfoWARE FIX Premium Trading Terminal – Powerful, Smart & Elegant!
InfoWARE Unveils New FIX Premium Trading Terminal –
Powerful, Smart & Elegant!
Whether you are new to trading or already an expert, the need for an intuitive and user-friendly trading terminal cannot be over-emphasized in an increasingly complex marketplace. Designed for traders looking for an edge in their trading, the New FIX Premium platform combines an accessible, easy-to-use interface with a wide range of powerful functions, ensuring your pathway into the market is uncluttered and informative.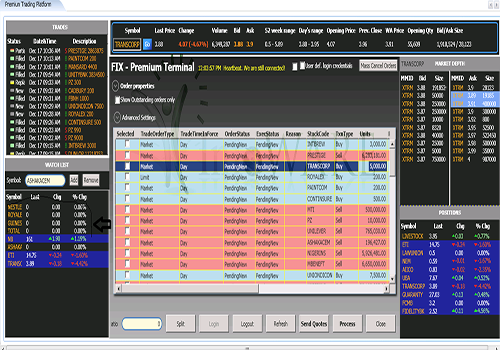 FIX Premium delivers an end-to-end trading infrastucture with superior transaction speeds, higher reliability, enhanced trading flexibilIty and global connectivity, giving you access to real-time InfoWARE Market Data, and advanced in-depth chart analytics to spot trade opportunities. This platform also incoporates extraction of Trade log in XW format, Direct Market Access/Straight Through
Processing  functionalities – fully supported in the FIX Premium OMS and entirely configurable with parameters such as STP Threshold, STP Value, and STP Customer Group. Which means  every trade you make is immediately passed into the underlying market, with no holds and no re-quotes. Hence, institutional investors can level the playing field and trade like market professionals.
Some of the additional capabilities to facilitate effortless trading include
Custodian Settlement: This allows for post trade allotments and end to end processing of Custodian settlement transactions
Custodian Contract Note: Contract notes are auto-generated and sent as a batch to agents. Also the notes are saved into the integrated document managment system against each agent profile for audit and regulatory compliance
Admin Logout of Users from the Application: System administrators can view and log out any user currently running the application
Application Idle/Session Timeout: For highly secure trading environments, the application supports setting an idle session timeout after which a user's session is terminated
Multi-Concurrent Customer Creation: For high volume retail environments, the system allows for multiple concurrent customer creation with guaranteed zero collisions on customer IDs created. The system also provides supports for Auto-generation of Customer ID during customer data import
Auto-scanning and uploading of images in the application: Scan and upload documents directly from the application with no need for third party software
Fully compliant Pre and Post Trade checks: For example, mandate Authorization is valid only when a customer meets full KYC compliance
Enhanced OMS Trade log reconciliation: InfoWARE OMS auto recognizes and processes trade files from XW, NSE FIX and CSCS Trade logs
Brokerage Firm X-Gen trade auto generation: Will auto generate the X-Gen trade log format via the Firm Manager report to enable for reconciliation with third parties if needed
E-biz/Internet banking Suite trade pin configurable options: Each BUY/SELL trade transaction via mobile or browser is separately verified via a One-Time-Pin (OTP) sent via email or to a mobile phone.
For more information