InfoWARE GO-LIVE Series
InfoWARE GO-LIVE Series
Spotless Transition to InfoWARE ERP: SFC Securities, Union Capital and Mega Capital Financial Services GO-LIVE in 8 weeks!
When you choose an ERP solution, you're not just buying software. You are choosing a long-term partner in your company's success. ERP is the central nervous system of a company's operations and it will be the repository of vital company information that is essential to the effective operation of the business.
At InfoWARE, we understand that the market place has become fragmented, complex, competitive and regulations are growing exponentially everywhere.
In summary, we consistently hear 3 challenges facing firms which are:
Drive
profitability,
efficiency and
productivity using
technology

Expand
connectivity

Navigate risk and
regulation
Facing such seemingly insurmountable challenge, organizations are now looking to technology solutions that streamline their processes and workflow.
Don't look too far…
At InfoWARE, we are more than providers of technology. We are a strong-trusted partner. Here are real life customer scenarios of how financial firms have seized the openness, best-in-class technology and greater flexibility provided by InfoWARE to gain critical competitive advantage
All three Companies leveraged on the expertise of InfoWARE Professional team to achieve successful, on-time and on-budget implementations.
---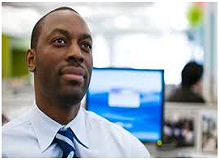 SFC Securities Limited: Making timely and Informed Decisions with InfoWARE Business Intelligence Reports and Dashboards
SFC Incumbent ERP was often full of data that could not be accessed without significant time, energy and effort. Because the Incumbent ERP system relied on preconfigured reports, creating a different view of data was very difficult.If management needs a non-standard report, IT personnel are frequently asked to create it. In a bid to find workarounds, users created 'side bar' systems like spreadsheet to improvise for control of data. In addition, data could not be spooled on a real-time basis.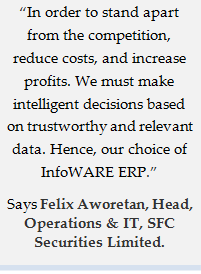 This posed a significant limitation when a quick response to change in policy, procedure or customer demand is required. The result was duplicated data entries and the need to reconcile systems to mitigate the increased possibility of errors.
With InfoWARE ERP Business Intelligence Reports, Adhoc Reports and Dashboards, SFC Securities can now leverage on the flexible reporting capabilities of the solution.End users can actually report on data real time without having to ask IT personnel for assistance. Executive dashboards are also available that display critical report and information using pre-defined KPI's to enable executives to monitor conditions by the minute.

SFC Securities Limited was appointed a dealing member of the Nigerian Stock Exchange (NSE) in May 22, 1989 and had since remained a dominant force in stocks trading on the floor of the NSE.
---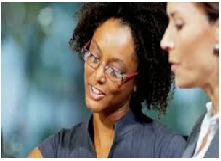 Union Capital Markets Limited: Working Smarter and leaner using a single, unified platform
Union Capital criteria were simple: an ERP solution that could streamline processes, making them transparent and integrating them with all other business areas in addition to gaining real time visibility into asset performance with a significant reduction on total cost of ownership. To cap it all, it was pertinent that the ERP could adapt and accommodate new business and regulatory requirement as they arise without additional customizations or technology investments.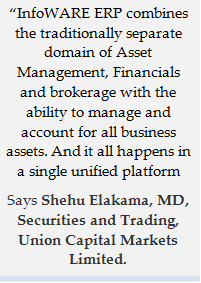 While UCML incumbent system had performed well for them in time past, features now possible through new technologies have proven difficult to implement at the pace required by the business coupled with epileptic support. At that moment, they decided it was time for change.
Outlined below are the Key Benefits derived by Union Capital after implementing InfoWARE ERP:
Enhanced visibility into asset management lifecycle.
Increased business opportunities by complying with government regulations
Reduced data entry time by 80%
Decreased paperwork by78%
Increased automation of asset management by88%
Reduced IT Total Cost of Ownership (TCO) from one software application

About: Union Capital Markets Limited was incorporated on December 21, 1999 as a subsidiary of Union Bank Plc. The group offers unmatched services in Investment Banking, Real Estate, Asset Management, Securities, Private Equity, Research and Financial Advisory.
---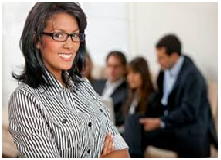 Mega Capital Financial Services Limited: Deriving maximum value from its most valuable asset "Human Resources" using InfoWARE ERP Payroll and HR Module.
Mega Capital was expanding their frontiers into the asset management terrain. As, the demands on operations grew, It became pertinent to acquire additional human resources.The HR department was held back by the burden of carrying out administrative functions.The onus of effectively managing employee from "hire to retire" on a multi-company scale became a herculean task.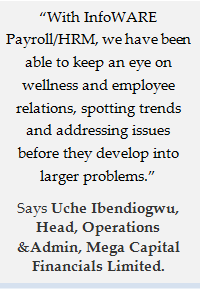 InfoWARE Payroll/Human Resource Management with Integrated Document Management and Biometrics to the Rescue!
Today, Mega Capital Limited is able to achieve more accurate information and reporting, better compliance with modules that include leave management, exit management, Appraisals management and benefit tracking.
InfoWARE payroll suite integrates seamlessly with the Employee Self-Serve modules to offer a comprehensive solution that easily calculates complicated deductions, handles different wage formulas, multi-state taxes, profit sharing, cafeteria benefit plans, loans, advances vacation and sick time plans.

About: Mega Capital Financial Services Limited is a growing Investment banking boutique, which transmuted from Mega Equities Limited with a proud heritage of over 12 years track record in the Nigerian financial markets to a full-fledged investment banking firm.
You too can be part of this dynamic, innovative-driven, train of change! To find out more on how you can sharpen your competitive edge and empower your people to anticipate and embrace change, visit www.infowarelimited.com